An Occasional Series by Katri Patel
---
We are delighted to welcome Katri Patel as a contributor to the Larsen Strings Blog. Katri is a Finnish born cellist and cello teacher based in London.
---
June 2017
Handle with Care
I have just watched an online video of 3 1/2-year-old child's cello lesson. The lesson starts with this very small child picking up his cello from the floor guided by the teacher's verbal instructions. It was lovely to see such a tiny cellist proudly handing his cello.
The connection between the player and his/her instrument is vitally important. Especially at the early stages when children play very simple tunes, possibly only plucking open strings, it is very important to support children's natural curiosity about the instrument. Hopefully this curiosity will develop into first liking and then loving the cello.
Cellos are so wonderfully human like both in sound and in body. The cello is a very huggable instrument and so possibly easier to build a real connection to compared to a recorder for example.
Some children like to name their instrument. I once met a child whose cello was called George. Or George III to be exact as there had been George I and George II before!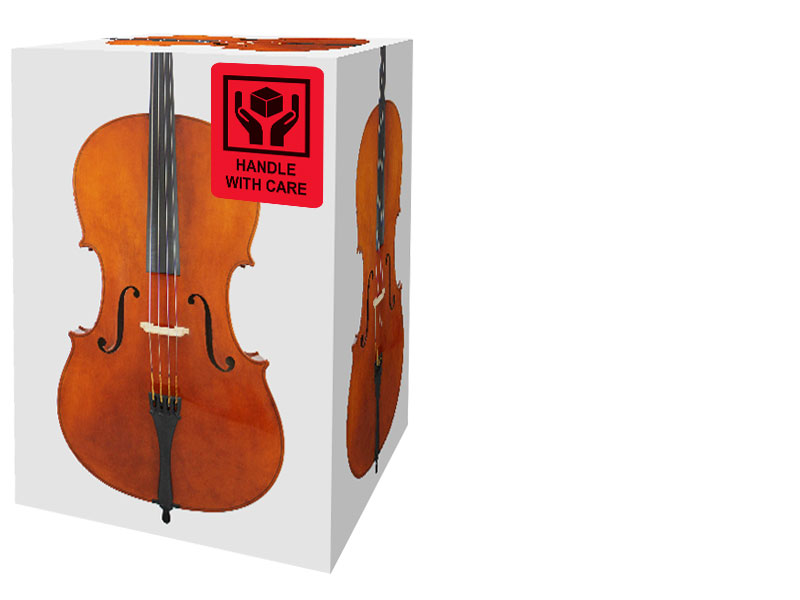 Sometimes we adults can be a little too keen to help the young cellists. Of course, string instruments are very fragile and need to be handled with care. But most children will understand this very well if it is clearly explained.
Even the very young children can easily learn to tighten and loosen the bow or to rosin it. These are often good things to start with as most children are absolutely fascinated about the bow.
I would like to move quite quickly into packing and unpacking the cello and carrying it, so that the children can feel like proper little cellists from the very start and be proud of their very special instrument.
We shouldn't stop the guidance there but continue it gradually to include more detailed information about the cello and how to take care of it. This way we can bring up independent young cellists who can confidently handle their own instrument.
One important skill to teach to young cellists is changing the strings. It is clearly not suitable for small children but teenagers certainly can do it. Changing strings should be done at first under guidance but in the end, it is a simple task as long as few basic rules are followed.
When I was young I had watched my teacher changing strings on my small cello a few times but when I eventually got my first full size cello aged 12 he refused to do it anymore and told me that it was time for me to learn. I was very apprehensive at first but I am grateful that he was so strict. He was right in saying that he wouldn't always be there when a string would suddenly break and I must be able to replace a string myself.
To my surprise I have met a few music college level students planning for career as professional cellists who had never changed strings and seemed a bit uninterested to learn. They were still trusting that their teacher or a violin shop will always be there to help. But my question for them would be " What will you do when a string breaks whilst you tune your cello just before an important audition, competition or recital concert in a country church? "
Changing strings is as important skill as tuning your own instrument and both should be part of every young cellists' education.
And there is the fun side as well! When you know how to change strings with confidence you are free to try new types of strings, like the Larsen's wonderful Arioso strings whenever you want!
---
January 2017
New Year Promise
We live in an increasingly digitalised world where music, books and films are available at any time online. We can use our mobile phones to control the lighting and heating in our home, pay for the coffee and listen to music on the way to work. These technological advances have brought huge quantities of classical recordings available for all of us with just a few clicks. It is all wonderful but sometimes I worry that in the midst of all this my young pupils might miss the great and wonderful experiences of hearing music performed live.
Unforgettable…
I own many great CD's but as much as I enjoy listening to them they still have never given me the same kind of spine tingling, hair raising moments of joy that many unforgettable concerts have given me. I still remember when at the age of about 9, I heard Valter Dešpalj play. I was astonished by his marvellous sound and tried later to imitate him on my small cello (unsuccessfully, I might add). Or when my parents took me to hear the great French cellist Paul Tortelier play all the Bach suites. When I was sitting in the old Naantali church it felt like his cello was speaking directly to me.
I have many other great memories of unforgettable performances which still bring me happiness after many years or even decades.
In a live performance we can sense the music with nearly all of our senses. We don't only hear the music but we can often feel the vibrations of a great instrument, sometimes even feeling them in our own body. And the visual experience can also add to the enjoyable experience. Seeing great musicians perform can teach young musicians more than any number of lessons. I can nag to my pupils week after week about the importance of a good posture and positions but all that is sometimes needed is seeing a truly impressive artist perform. They will want to not only to sound like him or her but look the same as well.
And then there is that magical experience of hundreds of people listening to music in silence sharing the great art together!
Spoilt for choice
I am fortunate to live in one of the greatest cities in the world for classical music. London can offer a choice of world class star performers practically every night. We are truly spoilt for choice. Sometimes it causes us to be lazy as well, as there is always tomorrow or next week with equally great concerts available. When I was growing up in rural Finland we made a special effort to go to concerts of great musicians as they were special occasions. My 86-year old mother still makes a weekly trip to a nearby town 25km away to attend concerts and books opera trips and tickets to many summer festivals. I find myself too often on the sofa watching the tv.
Promises
All this brings me to my New Year promise – I promise to leave the sofa and enjoy the wonderful cultural offerings of London. I have booked tickets to several concerts already. First of them is a concert by Alban Gerhardt and the Aurora Orchestra on Saturday 7th January. This concert is a part of a yearlong cello festival called Cello Unwrapped at King's Place in London. The festival features many other familiar names to Larsen Strings like Gautier Capuçon and Raphael Wallfisch and offers concerts of numerous styles including cello ensembles, baroque cello, jazz, folk, improvisation, solo cello, chamber groups etc.
I also promise to encourage my pupils to go to concerts by giving them an example of doing so myself, informing their parents about all the wonderful concerts available and speaking to my pupils about my recent concert experiences.
Whether you live in London or elsewhere, please join me in my New Year's promise of enriching our lives with live music and all the wonderful experiences it can give us! And if possible, take a child with you!
---
October 2016
I once had a pupil turning up for his early Saturday morning lesson with a huge chunk of wood missing from the lower bout of his cello. He tried to act normal even though I could see from his eyes that he was panicking. He didn't know what had happened but a quick word with his father revealed that he had put the cello into the boot of the car on top of lots of sports equipment including cricket bats, and the cello must have been caught by the lid.
Luckily all lessons don't start this dramatically but I am sure all cello teachers are familiar with small cellos in poor condition with wobbly spikes, slipping pegs, bent bridges and strings so old they could be described as antique! The sad thing is that a poor instrument or strings can hamper the progress of the child. Sometimes the sound is so poor and the whole experience so frustrating that the child might give up playing altogether. There can be many reasons for the bad condition of an instrument. Some parents might find it difficult to do anything about the condition of the instrument as many families live busy lives and planning a trip to a violin shop might be last thing on their 'to do' list.
Sometimes, I try to help them by promising to change the strings for them if they order new strings online or over the phone saving them a trip across the city. But if the instrument requires repair, it needs to be done by a trained luthier.
Other times, if the cello is recently bought or hired I always advise parents to take the instrument back to the shop as soon as possible after a problem has been discovered. Most reputable violin shops are happy to fix problems without an extra charge if contact has been made in a reasonable time. If a visit is not possible than I advise parents to call the shop and agree a mutually convenient time for repairs.
Another often encountered obstacle is of a financial nature. Money can as well be an issue and it is often a sensitive subject for parents. Quite understandably they are not keen to discuss their financial arrangements with their cello teacher but I would encourage any parents to contact their child's teacher and discuss the issue openly, preferably when the child is not present.
The teacher might then be able to give advice about grants and scholarships available or about reasonably priced violin restorers. When a child struggles to get a decent sound out of a tiny cello or becomes frustrated when failing to play without accidentally scraping the other strings, I often say:
"It's not you, it's the cello."
Sometimes I wish that I could have a magic wand and I could show to the doubtful parents what a future without the daily frustration and wasted practice time due to the slipping tuning pegs, for example, would be like. Or how much better their child's playing would sound with a new set of strings. A good sounding and responsive cello will inspire children to play more.
If the young student is given an instrument that doesn't limit them but gives them an opportunity to explore the cello and to achieve a sound that they actually enjoy it is going to further their progress without limits. Sometimes only small changes are needed. A new set of strings can make a dramatic difference and give the cello a much more brilliant and richer sound.
I have had the most exciting opportunity to be involved with Larsen Strings in developing and trialling fractional size cello strings. I have been amazed at what a difference high quality strings can make. I am thankful for all the wonderful people at Larsen Strings for allowing me to see the amazing work they do to improve children's playing experience and striving for ever higher quality.
They share my belief that children deserve the best start for their musical careers.
Aiming for Sustainable Solutions
Our aim is to work toward sustainable solutions at Larsen Strings.  As a company we have chosen to support the environment by upgrading to the CO2 neutral energy plan 'Medvind' as supplied by SE's Danish Land Wind Turbines.
Click images above for certification and for further information.

Elholm 6, 6400 Sønderborg, Denmark.
Larsen Strings A/S has chosen to support the environment by upgrading to the CO2 neutral energy plan 'Medvind' as supplied by SE's Danish Land Wind Turbines.
© 2018 Larsen Strings A/S