Alina Pogostkina
Violin Soloist
Virtuoso® for Violin
"I finally put your strings on my violin after one rehearsal with an orchestra last week. After the next rehearsal, some people from the orchestra came up to ask if I was playing on another violin, because the instrument sounded so much better!"

Virtuoso® for Violin
Extremely well received and consistently reviewed as setting the new standard for the violin. The ambition was to create a truly innovative synthetic core string at only moderate tension yet capable of delivering a richly nuanced sound with exceptional volume.
Virtuoso® for Violin
About Alina
Known for their "heartfelt performances" (Hamburger Abendblatt), Alina Pogostkina – winner of the International Sibelius Competition 2005 in Helsinki – gives guest performances at major orchestras and festivals worldwide and collaborates with such conductors as Michael Tilson Thomas, Gustavo Dudamel, David Zinman and Jonathan Nott , Paavo Järvi, Michael Sanderling, Sakari Oramo, David Afkham, Robin Ticciati, Thomas Hengelbrock and John Storgårds.
Highlights of the 2019/20 season include her debut with the Tokyo Symphony Orchestra with Lionel Bringuier and the tour with the Royal Stockholm Symphony Orchestra and Sakari Oramo. Re-invitations will take her to the Beethoven Orchestra Bonn, the Philharmonic Orchestras of Copenhagen and Helsinki and the Staatsorchester Stuttgart.
Alina Pogostkina has a long-standing artistic partnership with the Finnish Radio Symphony Orchestra, the Philharmonia Orchestra, the Orchester Philharmonique de Radio France, the NHK and Yomiuri Nippon Symphony Orchestras, the German Symphony Orchestra Berlin, the SWR Symphony Orchestra and the Mahler Chamber Orchestra. Highlights include her debuts with the Orchestra dell'Accademia Nazionale di Santa Cecilia and Mikko Franck, the Rundfunk-Sinfonieorchester Berlin and Osmo Vänskä and the Budapest Festival Orchestra with Marin Alsop.
Last season, Alina Pogostkina founded together with Danjulo Ishizaka and Nimrod Guez a string trio, with whom she already successfully toured in Germany. Already in the past she used her love for chamber music with renowned partners. They include Steven Isserlis, Yuri Bashmet, Gidon Kremer, Menahem Pressler, Christoph Eschenbach, Pekka Kuusisto, Maxim Rysanov, Jörg Widmann and Joshua Bell. As a welcome guest at music festivals, it can be experienced again and again in Schleswig-Holstein, Mecklenburg-Vorpommern, the Salzburg Festival as well as the Edinburgh International Festival, Grafenegg Festival, Istanbul Music Festival, Rheingau Music Festival and the Festival de Pâques in Aix-en- Provence.
Alina Pogostkina shows an impressive versatility in the baroque and classical repertoire – she plays regularly and with great passion on gut strings – to the masterpieces of modernism. In view of the spiritual aspect of music, she developed the program "Mindful Music Making" in 2018, with which she tries to bring classical musicians closer to mindfulness and the development of individual creativity in the 21st century.
Alina Pogostkina was born in St. Petersburg, grew up in Germany and received her first violin lessons from her father Alexander Pogostkin. Later, she studied with Antje Weithaas at the Academy of Music "Hanns Eisler" and deepened the study of baroque violin at the Mozarteum Salzburg under Reinhard Goebel. Alina Pogostkina plays on a Camillo Camilli from 1752.
Original Images © Nikolaj Lund

Mindful Music Making
Founded by world renowned violinist Alina Pogostkina, Mindful Music Making hosts retreats and workshops designed to support classical musicians mentally, physically and emotionally.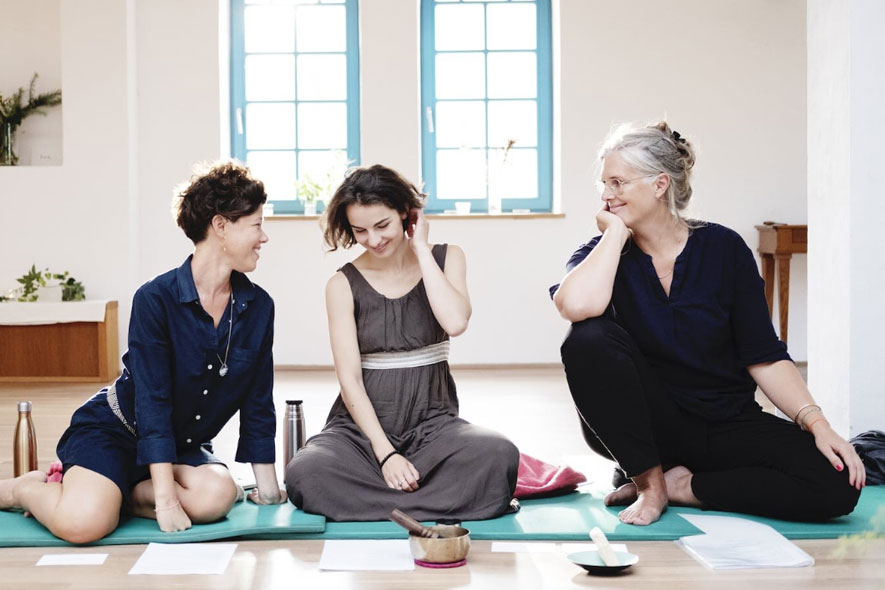 Workshops & Retreats for Musicians
"These days were probably the most intense, beautiful, deep and fulfilling experience of my life as a musician. The quality of listening – both to self and others – the benevolence, the non-judgemental atmosphere, really helped me to extend my consciousness of the music inside me."
Côme, Cellist
"The whole retreat was life changing for me and my playing changed after this retreat so much!  Not just learning music from great musician as Alina Pogostkina, there were so much more what I didn't find in any other music masterclasses until now."
Tjaša, Violinist
Alina's Vision
My vision is to create a safe space for musicians, where they find the emotional, psychological and physical support, which is so often lacking in common music education.
We are expected to perform at the highest level under extraordinary pressure, to compete with each other and, at the same time, still be good colleagues.
We are expected to open our hearts and connect with our deepest emotions. But we are rarely shown how to do this.
My dream is to create a community of people, whose mission is to find out what they wish to express, and who are choosing this wonderful journey in art and music, with awareness, curiosity and mutual support.
I believe that the world of classical music can be filled with musicians, who are more empowered by self-discovery, instead of just repeatedly playing out old roles. Roles, which we were expected to fulfil (or so we assumed) by our parents, teachers or society. I believe that it is possible to be musicians in this highly demanding world and still be led by our inner truth.
It is time to put that old myth to bed, that the artist is born a deep and emotional character, who is doomed to suffer and use this suffering for his art. We can create a new narrative of aware, empowered artists, who choose to know themselves and can therefore express and serve their music with a more insightful authenticity.
I passionately feel my calling to bring new awareness, support and understanding into the music industry.
"Everything we think has an impact on how we feel"
Alina is talking about the inner experience of being on stage, vulnerability, and how the audience can be a reflection of our own relationship towards ourselves.
Watch the full interview video here
Virtuoso® for Violin
Selected Larsen Blend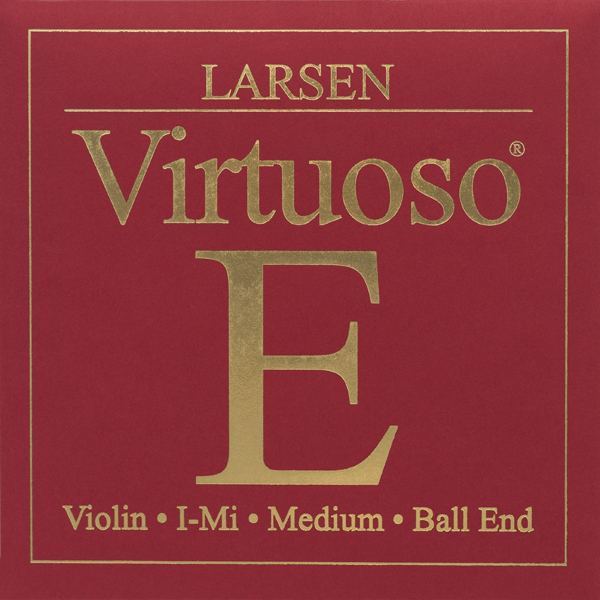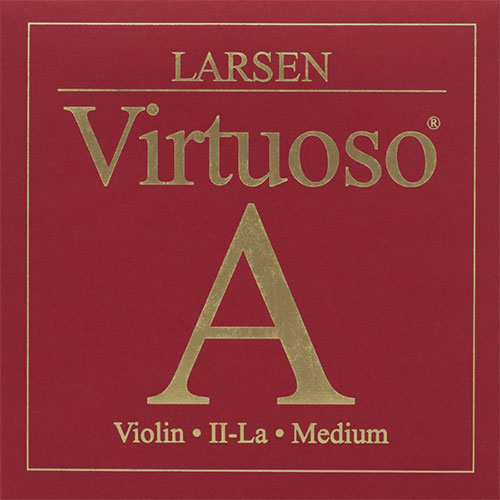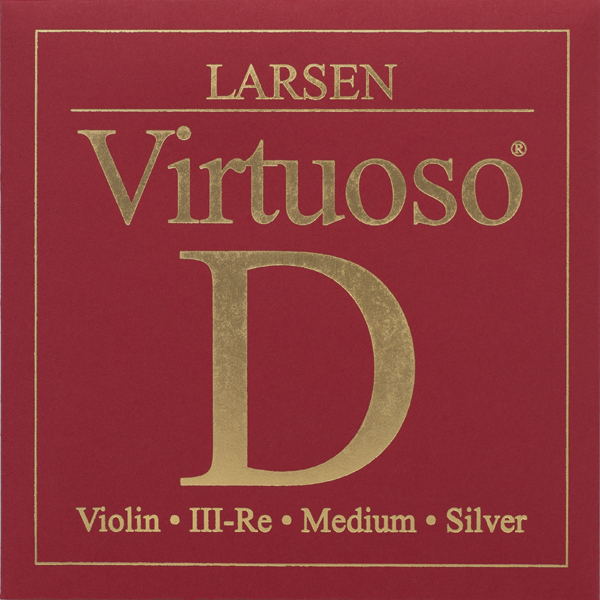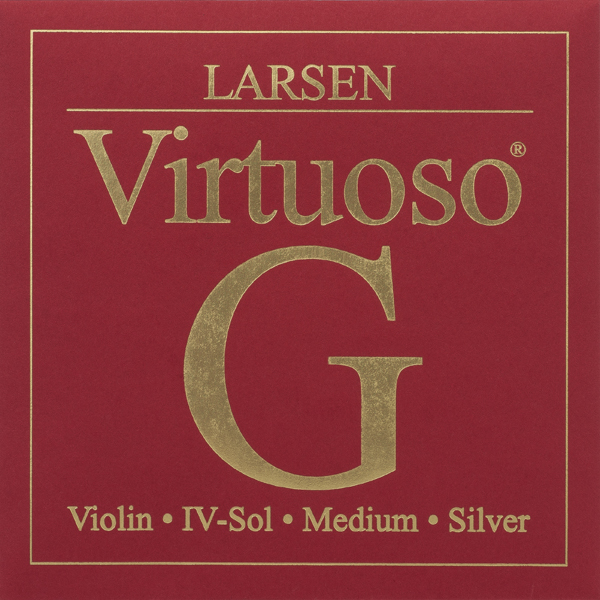 Alina Pogostkina
Please visit alinapogostkina.de to find out more about the artist including forthcoming events and an extensive portfolio of images, videos and recorded audio. Follow Alina on Facebook.
Mindful Music Making
Please visit mindfulmusicmaking.com (English) to find out more about retreats, workshops, meet-ups and one to one sessions.
Alternative Options for Violin
Friends of Larsen Strings
We work closely with musicians in the development of our strings and invite you to view reviews, videos and to connect with the colleagues and friends that choose our strings including details of their chosen set ups. We couldn't do it without you...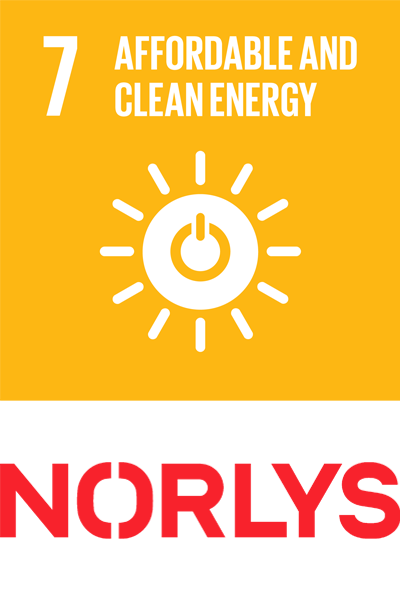 Aiming for sustainable solutions
Our ambition at Larsen Strings is to progressively work toward sustainable solutions in the way that we operate as a company. Some steps are small and some, such as our decision to upgrade to a C0² neutral electricity plan, are larger steps towards our destination.