Larsen Strings Workshop. 'How Can I Optimise My Instrument?'
Dr. Ing. Thomas Zwieg, Product Development Manager at Larsen Strings A/S with Tobias Krutz, violinmaker and cellist.
Dr. Ing. Thomas Zwieg and the violinmaker and cellist Tobias Krutz will explain and demonstrate how musicians can optimise the tonal quality and playability of their instruments: What difference do strings make? What impact does the bridge have? What influence does the soundpost have?
Thu 27 September
14.30 – 15.30
Stadthalle Kronberg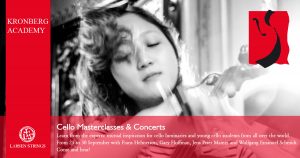 Photo: Thomas Zwieg/Photo: T. Krutz/Cellist Photo: Dan Hannen